La Clase Mágica (LCM) is a bilingual/bicultural adaptation of the Fifth Dimension model. LCM serves children and adults in several under-served neighborhoods in San Diego Diego County. Under the supervision of Olga Vásquez, an Associate Professor in the Department of Communication at UCSD, and with the help of community members, the first LCM program was launched in the fall of 1989 at St. Leo's Mission.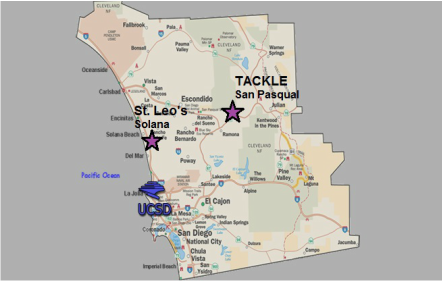 LCM takes pride in bringing educational resources to help children bridge many of the learning barriers minority populations face in the 21st century. Each site provides an encouraging atmosphere and a safe learning environment through which children can boost their self-esteem, grow their knowledge, and improve their classroom comprehension. LCM's culturally and linguistically relevant curriculum is meant to aid each participant at his or her own learning level and pace.
LCM Philosophy:
Promote new educational opportunities for under-served populations in the U.S.
Establish social action programs that serve the needs of the local communities and partnering entities such as the university.
Connect academic knowledge with the community's funds of knowledge.
Facilitate a bi-directional relation of exchange between the university and the community to funnel educational resources to the local community.
Provide technical skills and social and academic knowledge that will define the active global citizen of the 21st century.
Emphasize the use of technology and innovative learning to gain access to academic, social, and technical skills.
Engage participants in collaborative inquiry exercises that pose technology as a "mind-tool" as opposed a stagnant device for "skill and drill."
Foster a collaborative, multilingual/multicultural environment allowing minority individuals to embrace their linguistic and cultural backgrounds as intellectual tools for the problem solving process.
Link all members of the education system (administrators, teachers, university students) along with parents and community members to establish a steady flow of eligible individuals moving into higher education.
Create optimal spaces for community development through education, encouraging the development of social citizenship.
Mobilize participant's creative resources to "learn to learn" and to develop a cross-cultural understanding in a diverse world.
---
Back to LCHC Projects
Back to Fifth Dimension Adaptations
Read more about LCM in Chapter 11 and Chapter 12